ALL HOSTA PLANTS COME WITH PICTURE COLOR TAGS OR BLACK & WHITE INFORMATION TAGS, AS PICTURED.
Example of typical plant size shipped in summer: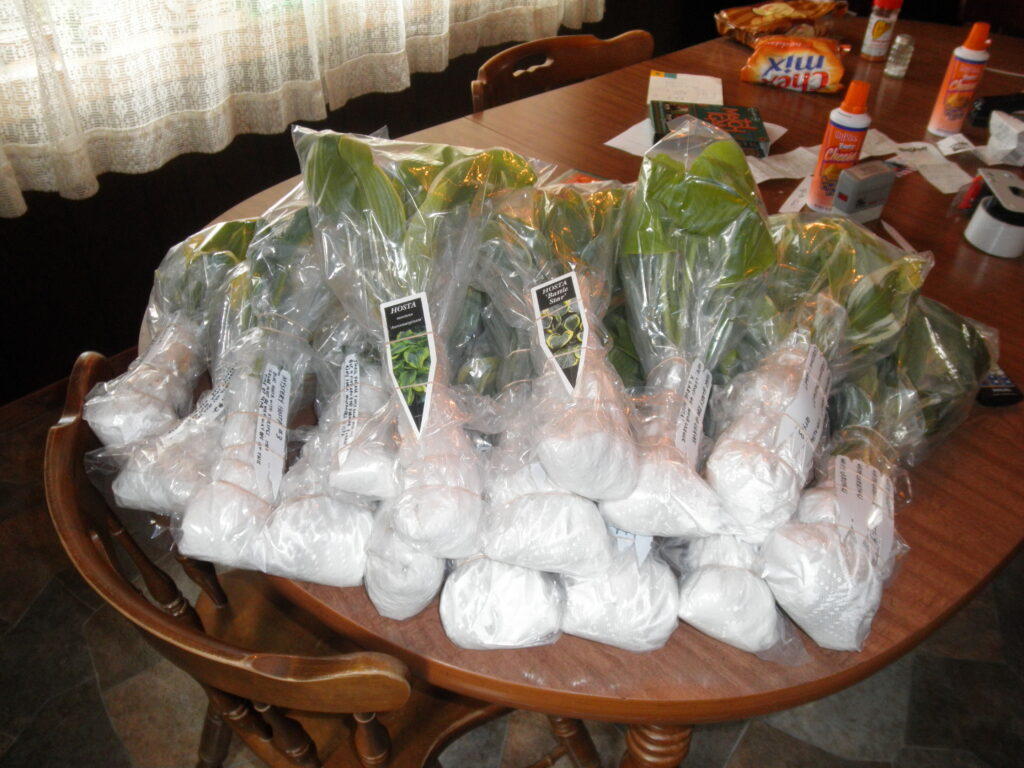 TISSUE CULTURE HOSTA INFORMATION
Propagation on hostas is performed in a tissue culture lab to ensure you of quality. The tissue culture process brings you many of the newer and the higher demand varieties that are many times hard to find. Tissue culture also provides a very clean and uniform stock. New varieties are tested for viruses before brought into the lab to ensure a disease free process. Then grown in trays for one to three years. And then planted outdoors for one or more growing seasons before it is ready to sell. They are grown in extremely rich, loose, black soil (drained swamp land) which drastically increases the root growth and produces nice healthy white roots. Tissue culture plants may come with only one eye, but I assure you it will be a nice size starter plant which will be large enough to enjoy the first season.
DIVISION HOSTAS INFORMATION
My division hosta plants are divided from my large hosta plants. Usually divided from mature plants with long, large roots. And usually I am very generous sending very nice size plants! But this can vary, depending on the plant and the season.
SHIPPING INFORMATION
U.S ORDERS ONLY! Sorry but I cannot ship to Hawaii and PR.
Flat rate $6 shipping on all orders.
FREE SHIPPING ON ADDITIONAL HOSTAS!
You only pay $6.00 shipping for the first hosta purchased. So be sure to buy multiples and save!
SHIPPING TIMES:
Spring, summer, and fall orders are shipped within 24 hours! Winter orders earliest ship date available is the third week of April. When paying for your winter and early spring order, you will have a drop down menu to choose a weekly ship date. Summer orders will be shipped within 24 hours unless. A specified shipping date is welcome, but in order to do this, you must immediately send me a message to weirdtornadoe@yahoo.com or a message on your order.
HOW YOUR HOSTA PLANTS ARE SHIPPED
Shipped bare root. Early spring plants arrive dormant. Late spring plants will be growing. Summer orders only affecting very large hostas, a few leaves may be trimmed off. Mid size and small hostas will have all leaves. Carefully packaged in a greenhouse atmosphere to assure a very healthy safe arrival of plants. I take extreme pride with selling hostas and very much enjoy growing hostas.

All Hostas Certified and inspected as "healthy looking stock plants" from Minnesota Department of Agriculture.